Please note: all physical product sales are directed to a third party web site (usually amazon or bonanza). Only digital sales are done through LifeWithTeresa.com, and the checkout is directed to a secure PayPal site.
Cage Theory: Healthy Joints for Active Lives
Cage Theory: Healthy Joints for Active Lives concentrates on the joints, specifically the joint cages, instead of the muscles. The top layer of muscle holds all the power (and gets the most attention in the looks department), but the small attachments on the inside – tendons, ligaments, cartilage, and small muscles – are much more important for injury prevention and pain-free movement.
Cage Theory teaches you how to strengthen and maximize the power of these small parts one joint cage at a time. Each major joint area is analyzed, and detailed exercises are given to improve joint strength and stability. Over 200 photos are included to illustrate exercises and correct posture. Level 1 Cage Theory exercises are designed for injury prevention, rapid recovery, and active aging. Level 2 Cage Theory exercises are more advanced for strength, agility, and performance.
No-one should have to live with chronic pain and recurring injuries. Too often, doctors and physical therapists clear patients for exercise when they are still in pain or lacking full mobility, and the patients don't know what to do. The functional exercise theory expounded in Cage Theory is the perfect way to reclaim your fitness level gradually and safely as a bridge between medical treatment and a return to normal physical activity.
Like most of Teresa S Landry's products, Cage Theory is a bridge, but this bridge is designed for individuals who are used to activity. This is for the weekend warrior who keeps re-injuring the same knee, the car accident victim who wants to regain shoulder mobility, the former athlete who wants to be able to play a pick-up basketball game without pain, or the parent who simply wants to keep up with their child. This is an essential reference book for any active adult to have on the shelf for those times when life's circumstances don't cooperate with plans.
Teresa S Landry is an author, fitness trainer, and wellness coach. Her work focuses on the basics of body mechanics, nutritional optimization and holistic wellness. Over 30 years in the fitness industry, extensive training in classical dance, and years as a competitive figure skater and coach give her unique perspective and experience about how to keep our bodies functioning at peak performance levels.
This is probably my best work. If you are a self-starter who has ever had (or is worried about having) joint problems, this is the book for you.
Buy Cage Theory on Amazon – click here – paperback $24.95
Buy Cage Theory digital download direct – for $9.99
The Aging Balance System: The Pre-Gym Solution
Great for beginners or people whose priorities are now tending toward health and longevity. If you want an overview and practical synopsis of 30 years of fitness, holistic wellness, and nutrition research, practice, and work, this is it. The topics are not handled exhaustively, but I did throw in the kitchen sink and give great guidelines.
Topics include: food ingredients, supplements, safe movement, antioxidants, stress and cellular oxidation, environmental impacts on health, sleep, food as fuel, posture and alignment, balance, types of exercise, range of motion, emotional/mental mindset, meditation, and lots of recipes. This is not a substitute for medical advice or intervention; always consult your medical provider before making significant changes in diet or exercise.
Buy The Aging Balance System on Amazon – click here – paperback $19.95
Buy The Aging Balance System digital download direct – for $7.99
4 Weeks to Stronger Knees
This program is designed for beginners or individuals with chronic re-injury of the knees who may need to rethink their activity regimen. If you need to learn or re-learn the basics of knee health, this is for you. The exercises are simple, in short sets of only about 3 minutes, and can be done almost anywhere. This is a gradual strengthening program that focusses on the joint, not the quads or calves (which look much more impressive, but really have very little to do with knee joint stability).
This program is entirely digital. 4 Weeks to Stronger Knees includes:
an ebook with detailed exercise instructions and photos
video links to 7 progressive exercise sets to be used for 4 days each throughout the program
everyday solutions to reduce inflammation (and, therefore, pain)
tips for achieving and maintaining a healthy weight
bonus link to a guided relaxation audio
progress chart – writeable and printable
bonus surprise links in the .pdf
Buy 4 Weeks to Stronger Knees digital direct download for $19.95
Buy 4 Weeks to Stronger Knees digital download on Bonanza –
This is a complete 14 day diet plan with starter exercise suggestions – not workouts. It's for someone who knows they need change, isn't ready for the gym, and gets overwhelmed with choices when they read about diets. The only choices in this plan are for between meal snacks (and those are limited); the cooking directions are step-by-step for the non-cook; and the exercises are things like taking a walk after a meal. The Endocrine Reboot is about creating new habits and understanding that healthy changes do not have to include going hungry or killing yourself at the gym. Includes complete meal plans, grocery list, and recipes.

The Endocrine Reboot is not something you want to keep doing forever (because the meals would get boring if you just repeat them over and over), but it will give you a solid understanding of what healthful eating habits can be like and a sense of whether or not this type of diet will work for you. I wrote this based on the planning I did to get my husband's health back on track. When we started getting serious about spending our lives together, it took about six months of eating like this to get his diabetes and high blood pressure under control without the need for medication. Of course, maintenance is always an issue once you achieve a goal. This is not medical advice, and you should always consult your doctor before making any significant changes in your diet. There is no such thing as one best diet for everybody, but I have been studying and working with nutrition and fitness most of my life. Just saying…

Buy The Endocrine Reboot on Amazon – click here – paperback, $19.95
The Canary Diet
The canary in the coal mine for cardiovascular disease is erectile dysfunction. The Canary Diet is all about how to feed your canary to keep it singing strong. This is not a substitute for medical advice or intervention. This is a research-based guide to healthy eating, specifically for improved cardio-vascular circulation. This is not step-by-step; you have to make your own meal plans, but all the information is here. Recipes. Facts. And great cover art. Short and to the point.

Buy The Canary Diet digital download direct – for $4.99
7am Sauna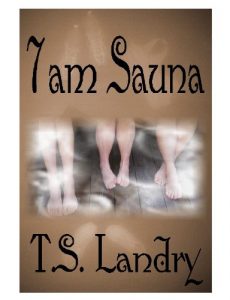 After I finished writing Silent Tears, I realized that I needed to work on dialogue. So, I decided the best way to work on dialogue – without feeling as if I was wasting time – was to write a novel that was (almost) entirely dialogue. Also, I happened to be in a very down-on-men phase of my life post-divorce, so this novel is not exactly extolling the virtues of men. That said, it's about women who have very little in common except a morning workout routine that ends with a sauna. Almost the entire novel takes place as conversations in the sauna. It's a whole novel of closed-door talk for women only. At that point in my life, I needed these women in my life, even if they were fictional. Well written and interesting. Take it for what it is.

Buy 7am Sauna on Amazon – click here – paperback, $14.99

Buy 7am Sauna digital download direct – for $4.99